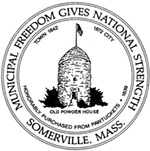 This fall, the City of Somerville is set to bring new and exciting arts and sustainability programming to the former Waste Transfer site on Poplar Street. Thanks to a $415,000 grant from ArtPlace America, the Somerville Arts Council, the Mayor's Office of Strategic Planning and Community Development, the Office of Sustainability and the Environment, and community partners (see below) are working to transform the 2.2-acre site into a community space that cultivates social innovation through art, urban agriculture, and cultural diversity. Using facilities largely built from reused shipping containers, the site will be transformed into a hub of innovation including farm- and food-related activity, as well as a welcoming open space that serves as a new gateway to the community.
Continue reading »
By Jim Clark
Gifted with a phenomenal singing voice and equally impressive songwriting skills, Texas-based songstress Ruthie Foster is once again hitting stages across the USA, this time in support of her latest release, Promise of a Brand New Day.
She will be performing and celebrating the release of the new album at Johnny D's this coming Friday, September 19, for a 7:30 p.m. show.

Continue reading »
By Jim Clark
Police were called to the Stop & Shop store on McGrath Hwy last week on reports of two shoplifters being detained by the store's loss prevention personnel.
Investigating officers took custody of the two men, identified as Ryan Libby, 25, of Everett, and Daniel Goggin, 20, of Boston and questioned witnesses on the scene.

Continue reading »
By Douglas Yu
An extended polystyrene (popularly known by its trade name, Styrofoam) recycling event was held at 9 a.m. last Saturday outside the DPW building in Somerville for residents to recycle their collected foam. The foam recycling company ReFoamIt was the host of the event. In less than half an hour, the ReFoamIt trailer collected a high stack of the stuff in the back of its truck. Outside the vehicle, one of the owners of ReFoamIt, Barbara Sherman, directed residents to dump their foam in different bags according to their properties.

Continue reading »
— By Donald Norton
Tuesday night at Foss Park the Somerville Pop Warner organization was presented with a $20K gift of equipment from the "Good Sport" foundation. Hundreds of players, kids, moms and dads showed up at 5:30 p.m. at Foss Park for the surprise of surprises. Star Patriots player Rob "The Gronk" Gronkowski showed up along with his brother Dan and father Marty. The Pop Warner participants, both players and cheerleaders, were so excited to see and meet Rob, it gave them memories to last a lifetime. The Gronk was received very warmly by the kids and almost all of them played catch with him and his brother Dan. The Good Sports foundation is supported by Rob Gronkowski and it helps various Pop Warner organizations throughout the area, this year they donated much needed equipment for the teams to practice with and be safe.
By Gabriela C. Martinez
A public meeting was held last Thursday to discuss the opening of a Brothers Marketplace in the old Social Security Office located in Davis 240, Elm Street. In the meeting, residents had the opportunity to ask questions about the products offered, learn about the store's construction process, and the delivery schedule for vendors.

Continue reading »
— Photos by Claudia Ferro
Local dog owners showed off their canine's skills and met other dog owners last Sunday at somdog's annual Dog Festival at Trum Field. A variety of activities and classes for dogs, as well as a silent auction and refreshments for humans were among the many highlights of the event.
The calls to Massport from all of us here in the Ville, have helped to slow down the air traffic over the city from constant to every now and then at least for now. As told to us from someone on a flight out of Logan recently the captain came over the loudspeaker and announced that the flight was taking off from over the ocean for "noise abatement". So the calls are working but we must keep a vigil and when you hear them make sure you call 617-561-3333 or go online and let them know your hearing them again. http://www.massport.com/environment/environmental-reporting/noise-abatement/noise-complaints/.
Continue reading »
By Cathleen Twardzik
Ways to Live Forever, a unique film about leukemia patients, will be shown at the Somerville Theatre on September 23 at 7 p.m. World Wide Motion Pictures Corporation is distributing this film, which gives an "insider's look" at the ways in which cancer affects patients and their families.

Continue reading »

Eagle Feathers #61 – Trum Field

By Bob (Monty) Doherty
War memorials salt the city's landscape from East Somerville to West Somerville. If you read them – and you should – they bring remembrance and note the dedicated sacrifice of this city's residents during all the wars America has been involved in. Being the most densely populated city in New England, this regrettably translates into very large losses. The sons and daughters of this patriotic city, commonly referred to as the Brooklyn of Boston, or the city of homes, or the blue-collar bedroom of Boston, suffered more than her small area would show.

Continue reading »