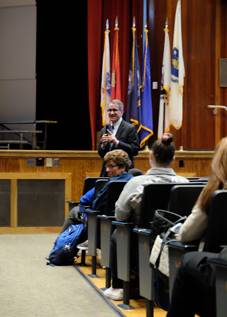 Tufts President Anthony Monaco presented his research on Duchenne Muscular Dystrophy (DMD) to more than a hundred students at Somerville High School last week.
President Monaco identified the gene for Duchenne Muscular Dystrophy as a doctoral student. Duchenne is one of nine types of muscular dystrophy and is a genetic disorder characterized by progressive muscle degeneration and weakness. President Monaco urged students to consider careers in scientific research because there is still so much to learn. His lecture was connected to genetics topics covered in freshman and AP biology at Somerville High School.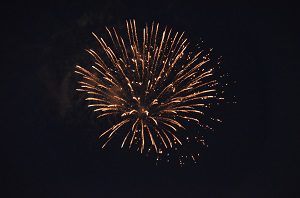 Due to forecasts of inclement weather, Somerville's Memorial on the Mystic Concert originally scheduled for Monday, May 29, at Baxter Park, has been moved indoors to the Somerville High School auditorium beginning at 7:30 p.m. The fireworks have been cancelled. The indoor concert is free of charge.
Continue reading »
By Nathan Lamb
Want to make a difference in your community as a volunteer health benefit advisor? If so, the Somerville-Cambridge Elder Services (SCES) SHINE program could use your help.
SHINE (Serving the Health Insurance Needs of Everyone) is a network of volunteer health benefits counselors who have been trained and certified to provide free information and assistance for older people, disabled Medicare beneficiaries, and their families, partners and caregivers.
Continue reading »
Kicking off with "Carnaval" along East Broadway, SomerStreets promotes active living and reconnecting with city neighborhoods
SomerStreets: Carnaval returns for its 8th year of shaking up East Somerville! SomerStreets will kick off the 2017 season Sunday, June 4, from 2 to 6 p.m. (rain date Sunday, June 11).
Continue reading »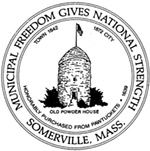 Monday, May 29 is Memorial Day and City offices will be closed for the holiday. Trash and recycling collection will be on a one-day delay all week and there will be no street sweeping on Monday. Resident parking permit and meter enforcement will also not be in effect.
By Louise Carpenter
Each year, the Save Our Homes Walk to Prevent Homelessness in Somerville raises thousands of dollars to help Somerville families avoid eviction and stay in their homes.  The 2017 Walk is Sunday, June 11 at 2:00 p.m. and will cover 5 kilometers (3.1 miles), beginning and ending at Somerville High School. The Walk route will pass several landmarks that relate to affordable housing in Somerville.
Continue reading »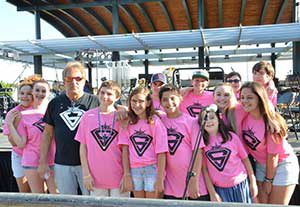 The Somerville Sunsetters are coming to a street near you! The Sunsetters, a traveling youth performance troupe that performs classic show tunes and modern musicals in Somerville neighborhoods throughout July and August, is now booking shows for the summer 2017 season. Residents interested in hosting a performance in your neighborhood should contact Jackie Rossetti at 617-625-6600 ext. 2614, orJRossetti@somervillema.gov. Performances are held Monday through Thursday evenings, 7 to 8 p.m., in July and August. Some blackout dates apply. Performance slots fill up quickly, so book yours today!
Continue reading »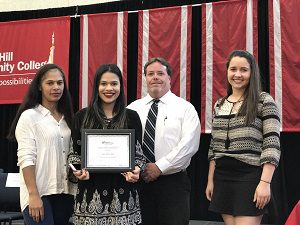 Ms. Maria E. Oliveira a 2017 Somerville High graduating senior was awarded the Annual Brandy R. Bonney Memorial Scholarship at Bunker Hill Community College's Honors and Awards Ceremony this past Thursday.  The Award was presented by Ronald Bonney a long time member of BHCC's Board of Directors.  Oliveira is the eleventh recipient of the Bonney Scholarship established in memory of Brandy Rae Bonney, this scholarship is awarded to an honors graduate of Somerville High School who was an active member of the high school community and is or was a resident or certificate holder of the Somerville Housing Authority.  Oliveira will join the 2017 fall semester at Bunker Hill Community College as the Brandy Bonney Scholar with all tuition and fees paid, she can renew the scholarship for an additional year to graduate in 2020. Best of luck in your educational pursuits Maria.
Continue reading »