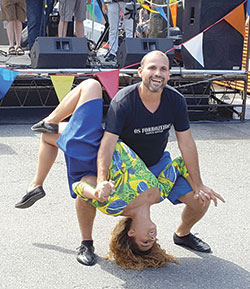 4th annual festival moves to evening hours for the first time. Food, music, arts, kids' activities and more bring two of Somerville's largest communities together.
Join the Somerville Arts Council and SomerVIVA, the City's immigrant outreach program, for the fourth annual "Haiti and Brazil Hit The 'Ville Festival,", an ArtsUnion festival. The festival will take place on Saturday, July 22, from 7-10pm in Union Square Plaza and include music, dance, food, family-friendly activities and more for the entire community. For the first time, this year the festival will be held in the evening rather than during afternoon hours, and will feature a Beer Garden with Haitian and Brazilian beverages for guests 21+.
Continue reading »
By Jordan Deschenes
Although city officials have stressed that the Community Benefits Ordinance (CBO) is not meant to be exclusive to one area, residents and business owners in Union Square have become aware of the implications that the legislation will have on their neighborhood's prosperity in the coming years. With official talks about the ordinance set to resume in early September, Union Square's major stakeholders are still wary of the best way to draft it.
Continue reading »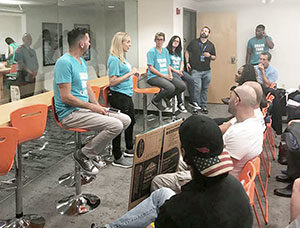 An open casting call was held at Canopy City in Somerville for the ABC TV show Shark Tank on Monday. Budding entrepreneurs were provided with the opportunity to pitch their business ideas, vying for a chance to get their proposal funded for further development. More information on Shark Tank can be found on their website at http://abc.go.com/shows/shark-tank/about-the-show.
By Jordan Deschenes
The Board of Aldermen unanimously approved a resolution last week that called for the Department of Homeland Security to ensure the extension the Temporary Protected Status (TPS) program until 2019.
The document stated that the TPS program is "very much at risk" as in the wake of the Trump administration's immigration enforcement policies.
Continue reading »
From the City of Somerville Health and Human Services Department
According to information provided by the City of Somerville, the Massachusetts Department of Public Health is reporting that mosquitoes carrying West Nile Virus, a potentially serious disease spread by mosquito bites, have been found in Cambridge, Boston, and Belmont so far this season.
Continue reading »
By Jim Clark
Somerville based artist Jessica Meuse has lent her skills and talent to the creation of a dazzling new mural, now on display at Assembly Row's FITRow.
Meuse was awarded a $20,000 commission to design and execute the three-story mural, which was completed over the course of seven days.
Continue reading »