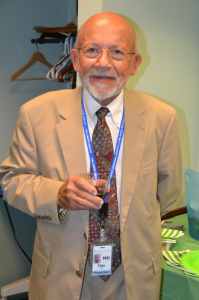 Dr. Albert Fine was a doctor of internal medicine at The Somerville Hospital for one month short of 40 years before moving on to Hallmark Health in Medford, from where he retired last Thursday. He headed straight to New Hampshire for some relaxation after last Thursday's retirement party.
Continue reading »
Somerville Neighborhood News is a production of Somerville Community Access Television, made by professional journalists, volunteers and staff. The half-hour news show has as its mission to provide a lively, informative newscast focusing on the events, issues and information impacting Somerville residents. Here are some featured news headlines: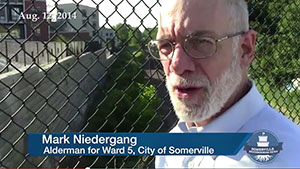 GREEN LINE AND GENTRIFICATION HEADED TO WARD 5: Ward 5's aldermen and residents are mostly happy the Green Line will reach the neighborhood in the near future, but they are worried about the side effects. "The Green Line will create half a dozen new subway stops in Somerville through the heart of the city and give us the kind of public transportation that we deserve," Ward 5 Alderman Mark Niedergang told Somerville Neighborhood News as he walked around the Lowell Street neighborhood recently.

Continue reading »
By Jim Clark
A police officer on patrol near Davis Sq. early Sunday morning was alerted to the presence of a loud, disorderly man by a citizen who reportedly said that she had been screamed at by a man who passed her as she was walking on Holland St.
The officer caught up with the man in question, identified as Maurice Hall, 36, of Boston, as he walked along Holland St.

Continue reading »
By Jeremy F. van der Heiden
This is the second installment of a three-part series of our interview with Massachusetts State Treasurer Steve Grossman, who is currently campaigning in the gubernatorial race.
Massachusetts Treasurer Steve Grossman is running in the forthcoming gubernatorial race, and recently stopped by The Somerville Times newsroom for an interview. In the first segment of this series, we discussed some of the ways in which he is approaching the job market, leveling the playing field for all residents and fighting poverty at its source.

Continue reading »
By Jim Clark
For anyone paying attention to popular music in the 80's, one powerful voice rang out among the rest, piercing through the crowded field of aspiring New Wave troubadours. That voice belonged to the one and only Martha Davis, fronting the cutting-edge band The Motels.

Continue reading »
By Jim Clark
As of last week, the Somerville Alibrandis held a 2-0 lead over East Boston in the season's semi-final series.
In game 1 it was Somerville 2, East Boston 0. It was a pitchers duel at St. Peters Field in Cambridge that had a lot of hype heading into the game.

Continue reading »
By Jim Clark
Police officers were dispatched to the Stop & Shop store on McGrath Hwy. last Thursday afternoon in response to a reported case of larceny.
Upon arrival, officers found several store employees holding a man down. The officers handcuffed the man, later identified as Ryan Buckles, 30, and escorted him to the store's loss prevention office.

Continue reading »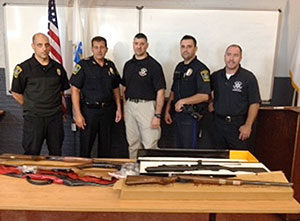 By Douglas Yu
On Saturday, August 16, the City of Somerville Police Department, in conjunction with the Middlesex Sheriff's Department, offered gun buyback in exchange for grocery store gift certificates.
The event did not require identification from the firearms owners, and it successfully collected 15 firearms by the end of the day.

Continue reading »
By Jeremy F. van der Heiden
This is the first installment of a two-part series following our interview with Lieutenant Governor Candidate Mike Lake.
In an interview with The Somerville Times, Mike Lake, who is running on the democratic ballot for Lieutenant Governor of Massachusetts, explained some of the ways in which he believes this office should be handled. As a note, the state has been without a lieutenant governor for more than a year, as the position was vacated when Tim Murray resigned in June of 2013.

Continue reading »
This Friday night, August 22 (rain date August 23), don't forget that the Somerville Boxing Club in association with Mayor Curtatone, the Somerville Recreation Department and USA Boxing will be presenting again this year Fight Night at Dilboy. Doors open at 6 p.m., the first bout is at 7 p.m. Admission cost is $20 for adults, $10 youth. Children under 12 are free with paid adult admission. It's a great time, so mark your calendar. There's been a lot of controversy online between those in favor of and opposed to kids in boxing. We here at The Times support the Somerville Boxing Club. It's a great way for kids to learn. Better than the streets.
Continue reading »