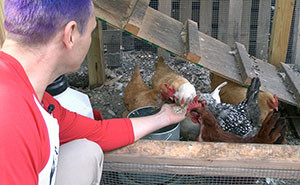 Coming up this week on Somerville Neighborhood News:
Schools out for summer. Youth job and arts programs around the city teach valuable lessons and benefit the city as well.

Continue reading »
By Patrick McDonagh
Somerville resident Paul MacDonald is the self-proclaimed dinosaur of Harvard Square retail business. MacDonald's ten dollar flip phone is left off, on the passenger seat of an 88 Ford Bronco while he is at work, logging business transactions and mailing checks by hand long after closing.

Continue reading »
— Photos by Claudia Ferro
East Somerville Community School's annual Moving On ceremony took place on June 24. Kindergartners held the hand of a 8th graders and walked them into the auditorium as a symbol of leading them onto the next part of their life, high School. Superintendent of Schools Tony Pierantozzi was in attendance, as was Ward 1 School Committee member Steve Roix.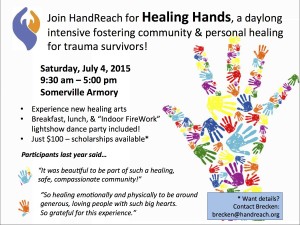 This July 4th, 2015, the Boston-based nonprofit, HandReach, is bringing trauma survivors of all walks of life together for a day and a night of hope and healing. The daytime event, Healing Hands, will offer those who've experienced all types of trauma –from combat service to domestic violence — a chance to try out healing modalities perhaps previously unheard of. Practitioners will offer everything from tai chi, to chair yoga, to animal therapy, to myofascial release, to aromatouch technique, to sound healing, to animal therapy, and much much more.
Continue reading »
By Jim Clark
Police were dispatched to the K-Mart store on Middlesex Ave. Saturday evening on reports of shoplifting in progress.
Arriving officers were advised that a man, later identified as Brian Belew, of Chelsea, had been observed by loss prevention personnel cutting open boxes containing expensive perfume with a knife and concealing the bottles on his person.

Continue reading »

By Joseph A. Curtatone
(The opinions and views expressed in the commentaries of The Somerville Times belong solely to the authors of those commentaries and do not reflect the views or opinions of The Somerville Times, its staff or publishers)
Three weeks of budget hearings wrapped up last week after long nights, lots of numbers, and a diligent review by the Board of Aldermen. We now have a responsible budget for the coming year that meets our obligations while continuing to improve city services despite a tumultuous winter. In February, I said this would be the best budget year in our history. More than 110 inches of snow later, the most snowfall in one winter in our city's history, we had to come up with a plan to pay for our extensive snow removal and subsequently hold off on some of the new programs we wanted to implement for the coming year. Yet we're not going backwards or even holding still. We won't stall the progress we've made.

Continue reading »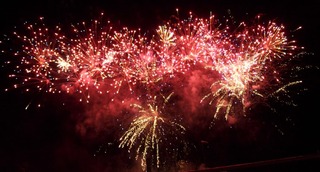 The Fourth of July Independence Day celebration at Trum Field will begin with free entertainment at 6 p.m., concluding with a 30-minute fireworks display at approximately 9:15 p.m.
The following street closures and parking restrictions will be in effect on Thursday evening:

Continue reading »
A Tufts University student reported yesterday that on Saturday, 06/27/15 at approximately 5:30 p.m. she was walking near campus on Teele Ave when an unknown college age male exposed himself to her.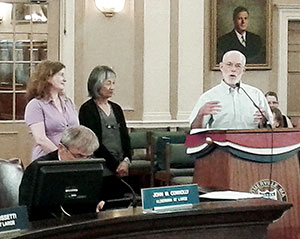 A citation was issued by Ward 5 Alderman Mark Niedergang, Alderman at Large William A. White Jr., Ward 3 Alderman Robert J. McWatters, Alderman at Large Jack Connolly, and the entire Board of Aldermen and the Mayor commending Community Cooks, which is celebrating its 25th year of providing the neediest members of our community with home-cooked meals. The presentation was made at the Board's regular meeting on June 25.