By Jim Clark
A police officer en route to a call at the Home Depot store on Mystic Ave. last week got sidetracked when he spotted a vehicle running a red light at the corner of Grand Union Blvd. and Revolution Dr.
According to the officer's report, the vehicle turned right onto Grand Union Blvd. on a red light, which is only allowed after coming to a full stop. The officer said that the vehicle did not even slow down as it made the turn.

Continue reading »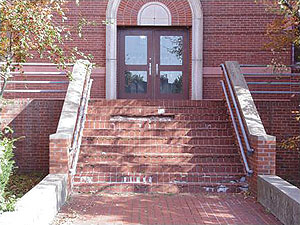 State Treasurer Steven Grossman, Chairman of the Massachusetts School Building Authority ("MSBA"), and Jack McCarthy, MSBA Executive Director, announced today that the MSBA Board voted to invite the City of Somerville to collaborate on a Feasibility Study to look at possible solutions to the deficiencies identified at the Somerville High School.
Continue reading »

By Joseph A. Curtatone
(The opinions and views expressed in the commentaries of The Somerville Times belong solely to the authors of those commentaries and do not reflect the views or opinions of The Somerville Times, its staff or publishers)
Governor-elect Charlie Baker faces a huge challenge on the first day he takes office—how to maintain an aging transportation system that is the backbone our economic strength. Last year, the Legislature passed the first gas tax increase in 22 years and, in doing so, also linked the tax to inflation rates. On Election Day this year, Massachusetts chose to roll back that provision linking the gas tax to inflation, which will cost the state $1 billion over the next decade in transportation funding. This is a challenge for Gov. Baker and all our state legislators, but it's also an opportunity to address the inadequacies in our transportation funding. If we're going to stay economically competitive as a region and a state, we must explore bold and innovative ways to fund the strong transportation system we need if our economy is to thrive.

Continue reading »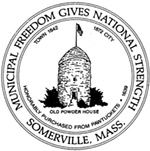 Join Mayor Joseph A. Curtatone, Director of Traffic and Parking Suzanne Rinfret, and Parkmobile on Monday, Nov. 24 to launch the latest parking technology in Somerville with Parkmobile's smart phone app. The official launch ceremony will be held at 9:30 a.m. on Meacham Rd. in Davis Sq., adjacent to Seven Hills Park and the Davis Sq. T station.
Continue reading »
By Donald F. Norton
The Softball team sponsored by Winter Hill Liquors recently won The Somerville Fall Softball League Championship, beating the Wicked Cheesy, April Fools, US Fuel, and Baros Finest, winning number one in the League.

Continue reading »
By Jim Clark
The City of Somerville Board of Alderman issued a special citation at their regular meeting on Nov. 11 commending those Somervillians who have honorably defended our nation with their dedicated military service in the post-9/11 era.

Continue reading »
By Donald F. Norton
After Hurricane Sandy struck the city back in 2012, the Somerville High School auditorium and cafeteria were hit the hardest, with over two million dollars in damages.
Mayor Joseph A. Curtatone, Superintendent of Schools Tony Pierantozzi, Somerville High School Headmaster John Oteri, members of the Board of Aldermen and School Committee as well as members of the general public gathered on Monday evening, Nov. 17, at 6 p.m. for the reopening ceremony of the newly refurbished auditorium.

Continue reading »
Tonight at Sally O'Brien's, 335 Somerville Ave.,  Alderman Ward 3 Rob McWatters, the "constituent service Alderman," will be holding a fundraiser. He's very popular here in the city and we wouldn't be surprised to see the place packed. We did hear he's going to have some surprise guest of honor, the newly elected Middlesex District Attorney will be present. A nice person who is from Somerville and Ward 3.
Continue reading »
Mayor Joseph A. Curtatone and Ward 7 Alderman Katjana Ballantyne invited all residents to a Ribbon Cutting Ceremony for the new North St. Veterans Playground on Saturday, Nov. 15. The new park will includes new LED lighting; security cameras; ADA accessibility; a water spray feature; children's play area; climbing structure; café-style seating area; permeable rubber surfacing; ½ basketball court; tennis backboard; combination street hockey and soccer goal; and enhance plantings and green space. The playground will also be increased in size by one-half. For more information on parks and open space projects in the city, visit http://www.somervillema.gov/departments/ospcd/parks-and-open-space.