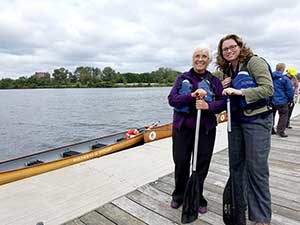 By Rep. Christine P. Barber
34th Middlesex District
(The opinions and views expressed in the commentaries and letters to the Editor of The Somerville Times belong solely to the authors and do not reflect the views or opinions of The Somerville Times, its staff or publishers)
While Medford and Somerville are great places to live, one thing we often complain about is a lack of open space. For many, this means driving far to access a park or waterfront. We forget, or simply are unaware, that though we may be immediately surrounded by city blocks and urban streets, we live within 3 miles of over 60 acres of a waterfront park with beautiful trees, open space, and paths. Would you know what this is? It's the Mystic River and Macdonald Park, an underutilized gem near Station Landing and Mystic Valley Parkway.
By Tom Bannister
A ribbon cutting ceremony to celebrate the completion of the Otis Playground renovation and its much anticipated renaming as Cremin Playground, in honor of Deanna Cremin, a wonderful Somerville teen who was a positive inspiration for all will take place this Saturday, October 22.

Continue reading »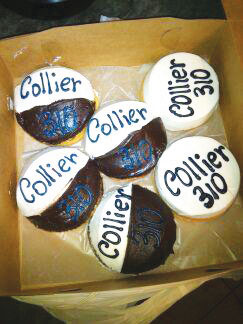 The 4th Annual Sean Collier Memorial Fundraiser Weekend is happening at Lyndell's Bakery!
From doors open on Friday Oct. 21 to doors close on Sunday, Oct. 23, $1 from every half moon cake sold will go directly to the Somerville Auxiliary Police Sean Collier Memorial Fundraiser which helps Somerville High students interested in pursuing a career in law enforcement.
By Jim Clark
Police were dispatched to P.A. Lounge last Saturday night on reports of a possible assault with injury.
Upon arrival, the officer met with the victim of the alleged assault who told them that a short time earlier he was on the dance floor inside the bar listening to a live band and slam dancing in a mosh pit when he felt a hard object hit his head from behind. The man said that he felt intense pain and what felt like sand pouring down from atop his head. When he checked his head it was gushing blood from where he felt the impact.

Continue reading »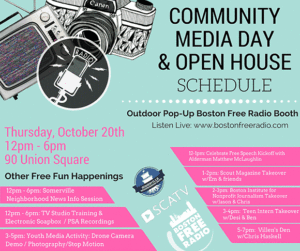 SCATV will join other community media centers across the country for the newly sanctioned free speech holiday called "Community Media Day"
Thursday, October 20th — 12:00 – 6:00 p.m.

By Joseph A. Curtatone
(The opinions and views expressed in the commentaries and letters to the Editor of The Somerville Times belong solely to the authors and do not reflect the views or opinions of The Somerville Times, its staff or publishers)
Soon you should see signs popping up around Somerville announcing that the citywide speed limit is 25 mph, unless otherwise posted. We are working to drop the speed limit from 30 to 25 on most roads for one simple reason: Because the data show that slowing down saves lives.

Continue reading »
~Photos by Kevin Dickinson
On Saturday, Mayor Joseph A. Curtatone, the city's SomerViva Immigrant Outreach & Service program and the Somerville Arts Council hosted a festival to mark "Día de la Raza."


Continue reading »
~Photos by Claudia Ferro
On Sunday som|dog took to historic Union Square in Somerville for their semi-annual Doggie 5k Fun Run. This year, they honored the late Tom Taylor, who served on the Somerville Board of Alderman from 1983 to 2013, and was an avid som|dog supporter. Tom's family set up a special team for the event called Tom's Pawsetters and they welcomed runners and walkers from across the city.
By Amy Swain
The Board of Alderman held a regular meeting last Thursday, October 13. The meeting began at 7:00 p.m. and carried on for roughly three hours.
Much of that time was spent listening, and then responding to Mayor Curtatone's presentation on upcoming city projects. "It is a very complex but exciting time in our city," Curtatone began. "We all know the commitments we highlighted in Somervision. We've made significant progress, but we still have a long way to go. The three key commitments we have to focus on now are the Green Line Extension, investing in our aging water and sewer infrastructure, and overhauling the broken zoning code."

Continue reading »
By Olivia Costanzo
About 60 residents from Somerville's Ward 5 attended a public meeting at the Visiting Nurses Association on October 5 to get informed and ask questions about the plan for a new Somerville High School.

Continue reading »